Theme: Leaving no one Behind: for Food and Nutrition Security and
Agriculture Competitiveness
Date:  4th and  5th July 2023
Venue:  KICC
The summit will bring together private sector, public sector and other non-state actors with a series of panel discussions ranging from Agritech solutions, agriculture financing, intergovernmental relations, policy dialogue, agricultural research and other agriculture intellectual insights. Advanced Green and Digital technologies, climate change adaptation, business models, agricultural inputs, extension services, data repository, and other key drivers to productivity for agriculture transformation, job creation, and prosperity will also feature in this year's summit. The agriculture private sector faces myriad challenges, and the slack must be unbundled now in partnerships and dialogue embrace for accelerated transformation, trade, and investments.
Affirming that those responsible for the coordination of the transformation of food systems have the duty to engage all relevant stakeholders at eye level, strong partnerships are essential and indispensable for achieving food and nutrition security and competitiveness. What is paramount is understanding how market dynamics and competition are affected and the role policies play to promote change to ensure fair competition in global markets and the sustainability of the agriculture sector. In this light, government action becomes even more important and policy dialogue around these topics is more timely than ever.
The agriculture policy landscape is large and complex with a multitude of public, non-governmental and private sector players. Despite the sector being private-sector sector driven, the dynamics of Kenya's political economy are intricately interwoven with the sector thereby influencing its growth trajectory.
Goals and Objectives
The aim of this summit is to;
Update on the implementation of Kenya's Agriculture Sector Growth and Transformation Strategy.
Assess the competitiveness of the Kenyan agriculture sector.
Discuss roadmap to achieving food and nutrition security
Highlight technology and  innovative solutions
Share industry trends, insights, learnings and recommendations
Adding value Public private partnerships
Specific topics to be discussed include:
Role of the private sector in the implementation of ASTGS
Enhancing sustainability and resilience of food systems
Challenges of the true cost of producing food
Models and applied methodologies to study food systems dynamics and trade-offs
Food safety and food Business operators
ACTF and regional trade competitiveness
Digitization in food systems
Agritech innovations in food systems
Ease of doing business in Kenya
Market trends and dynamics
Public-Private partnerships in the counties: modalities, opportunities and challenges
Intergovernmental relations: Adding more value
Theme: Leaving no one Behind: for Food and Nutrition Security and
Agriculture Competitiveness

Date:  4th and  5th July 2023

Venue:  KICC

The summit will bring together private sector, public sector and other non-state actors with a series of panel discussions ranging from Agritech solutions, agriculture financing, intergovernmental relations, policy dialogue, agricultural research and other agriculture intellectual insights. Advanced Green and Digital technologies, climate change adaptation, business models, agricultural inputs, extension services, data repository, and other key drivers to productivity for agriculture transformation, job creation, and prosperity will also feature in this year's summit. The agriculture private sector faces myriad challenges, and the slack must be unbundled now in partnerships and dialogue embrace for accelerated transformation, trade, and investments.

Affirming that those responsible for the coordination of the transformation of food systems have the duty to engage all relevant stakeholders at eye level, strong partnerships are essential and indispensable for achieving food and nutrition security and competitiveness. What is paramount is understanding how market dynamics and competition are affected and the role policies play to promote change to ensure fair competition in global markets and the sustainability of the agriculture sector. In this light, government action becomes even more important and policy dialogue around these topics is more timely than ever.

The agriculture policy landscape is large and complex with a multitude of public, non-governmental and private sector players. Despite the sector being private-sector sector driven, the dynamics of Kenya's political economy are intricately interwoven with the sector thereby influencing its growth trajectory.

Goals and Objectives

The aim of this summit is to;

Update on the implementation of Kenya's Agriculture Sector Growth and Transformation Strategy.
Assess the competitiveness of the Kenyan agriculture sector.
Discuss roadmap to achieving food and nutrition security
Highlight technology and  innovative solutions
Share industry trends, insights, learnings and recommendations
Adding value Public private partnerships

Specific topics to be discussed include:

Role of the private sector in the implementation of ASTGS
Enhancing sustainability and resilience of food systems
Challenges of the true cost of producing food
Models and applied methodologies to study food systems dynamics and trade-offs
Food safety and food Business operators
ACTF and regional trade competitiveness
Digitization in food systems
Agritech innovations in food systems
Ease of doing business in Kenya
Market trends and dynamics
Public-Private partnerships in the counties: modalities, opportunities and challenges
Intergovernmental relations: Adding more value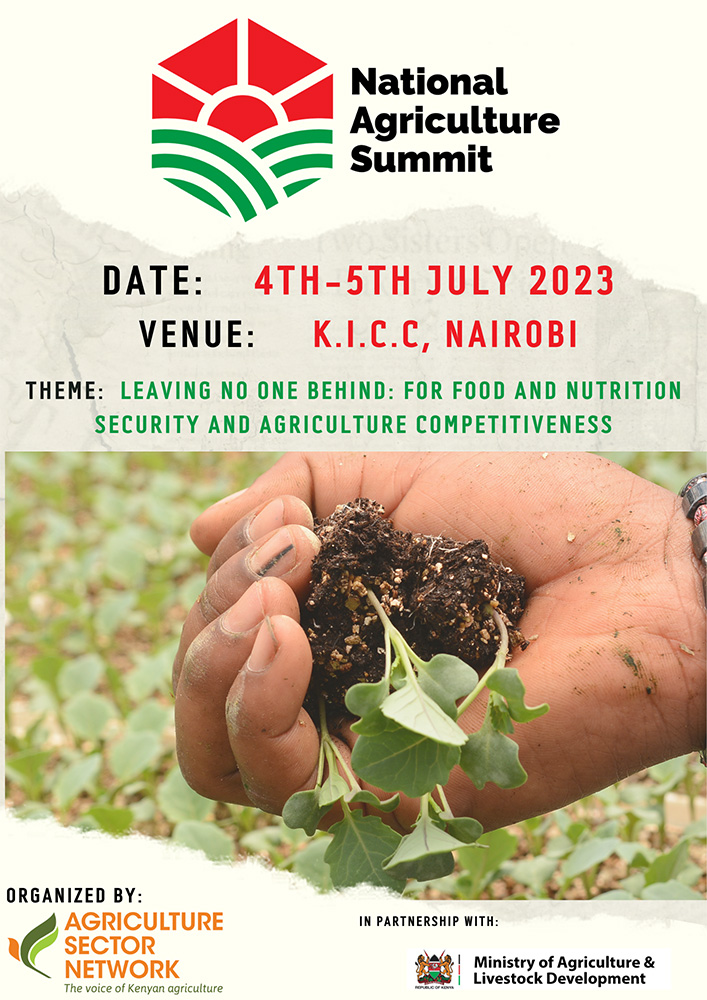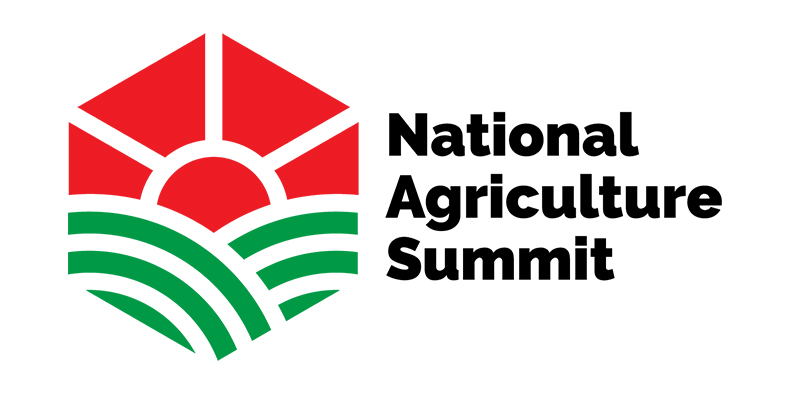 4th National Agriculture Summit 3rd & 4th July 2023