ASNET Chair Dr. Bimal Kantaria presented the ASNET Strategic Plan to the Governor of Kiambu County
ASNET Chair Dr. Bimal Kantaria presented the ASNET Strategic Plan to the Governor of Kiambu County also the Chairman of Agriculture at the Council of Governors HE Dr. James Nyoro. ASNET looks forward to working closely with the county Governments to ensure that the sector thrives.
To transform Kenyan agriculture, it is imperative to build strong, broad and inclusive coalitions among private sector actors with a commitment for improving policies and sector coordination. All actors across the agricultural product value chain as well as supporters and enablers must work together as important agents of agriculture transformation in the country. However, private sector engagement in the agriculture policy dialogue process has been hampered by a constrained coordination and limited capacity to generate evidenced based issues to facilitate result oriented dialogue with policy makers.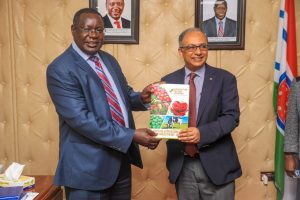 Moreover, the agriculture private sector consultation processes have remained largely unstructured, fragmented, lacking adequate follow up and have been further segmented into sub-sectoral issues. The foregoing anomalies can be addressed through improved private sector legitimacy and representation, enhanced capacity for policy engagement, facilitated knowledge management through evidenced based research on issues affecting agriculture and broadly disseminating the same for information and action. It is therefore critical to institute structured policy dialogue processes and establish accountability mechanisms that focus on policy makers and creates broad and inclusive platforms for agriculture private sector actors to engage and discuss dire issues affecting them. The identified shortcomings and the vital need for an acceptable agriculture private sector
coordination mechanism necessitated the establishment of a platform that will organize and coordinate policy dialogue processes with the government resulting in the formation of ASNET. ASNET will therefore serve as the agriculture private sector coordinating and policy dialogue platform. The platform will spearhead an impactful policy discourse that will contribute towards the transformation of the agriculture sector by creating strong partnerships for an enabling business environment.